Framing and processing of Cto's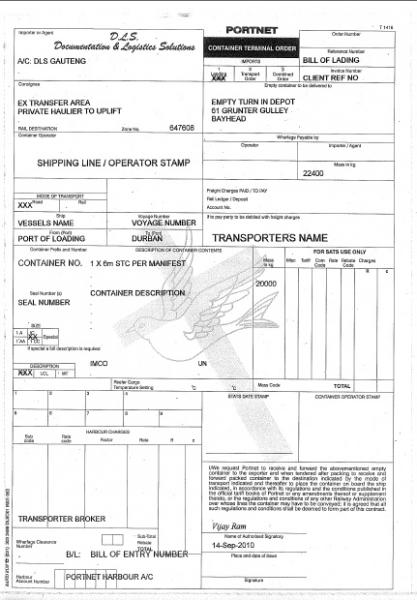 DLS receives instructions from various client's ie: shipping companies, clearing and forwarding
agents, transporters, depots, warehouses, brokers and importers and exporters for the processing
of CTO's (Container Terminal Orders). This is for Import and Export cto's. The CTO's are framed at
DLS and taken to the relevant shipping lines for stamping and approval. Once all shipping charges
and all other charges relating to clearing and releasing a container has been paid, the shipping line
will stamp our CTO, indicating that this container has been released. DLS takes this stamped CTO
to Transnet Port Operations documentation office ( A - Check ) for capturing. Cto's are submitted by
our messengers and collected once this has been captured.
The CTO's are tracked from its inception, when it leaves our office to the shipping lines and then to
Transnet's documentation office and its return to our office. We have logs in place which is
updated regularly by our operations staff. The clients are kept informed my email, fax and telephone
re the progress of the document flow.
Captured CTO's are logged and the clients are advised of the availability of the CTO for the
collection of their containers. Cto's are handed to the relevant transporters and this is logged and
recorded. This applies to all Road, Rail and Transshipment containers, Import and Export.